TA Only Package
Free

with GWT Time Recorder Device
Buy an Attendance Recorder from GWT and get free package that includes the following features.

People Directory
Attendance Management
Leave Management
Over Time Management
Device Management
System Management

People Directory Report
Resignation Report
Attendance Detail Report
Attendance Summary Report
Attendance Log Reports
Leave Reports etc.
Payroll Package
Lakh 25
for 100 employee
Include all TA Package's features.
Also, can perform

Payment Definition
Allowance & Deduction
Addition & Deduction
Salary Adjustment
Payment Calculation
Promotion/Demotion
Tax Calculation
SSB Calculation
Pay slip

Monthly Payment Reports
Income Tax Reports
SSB Reports
Customized Reports
Customized Payslip
HR Package
Lakh 8
for 100 employee
Not like using with Payroll Package. Can use HR Package privately.
Included Features are related with HR Management's Functions. They are as following:

Employment History
Education History
Employee Attachments
Additional Skills
License & Certificate
Employee Contract
Health & Situation
Employee Deposit
Employee Equipment
Warning
Employee Training
Bonus & Award
Employee Incident
Application Form
Exit Interview
Organization Chat & etc.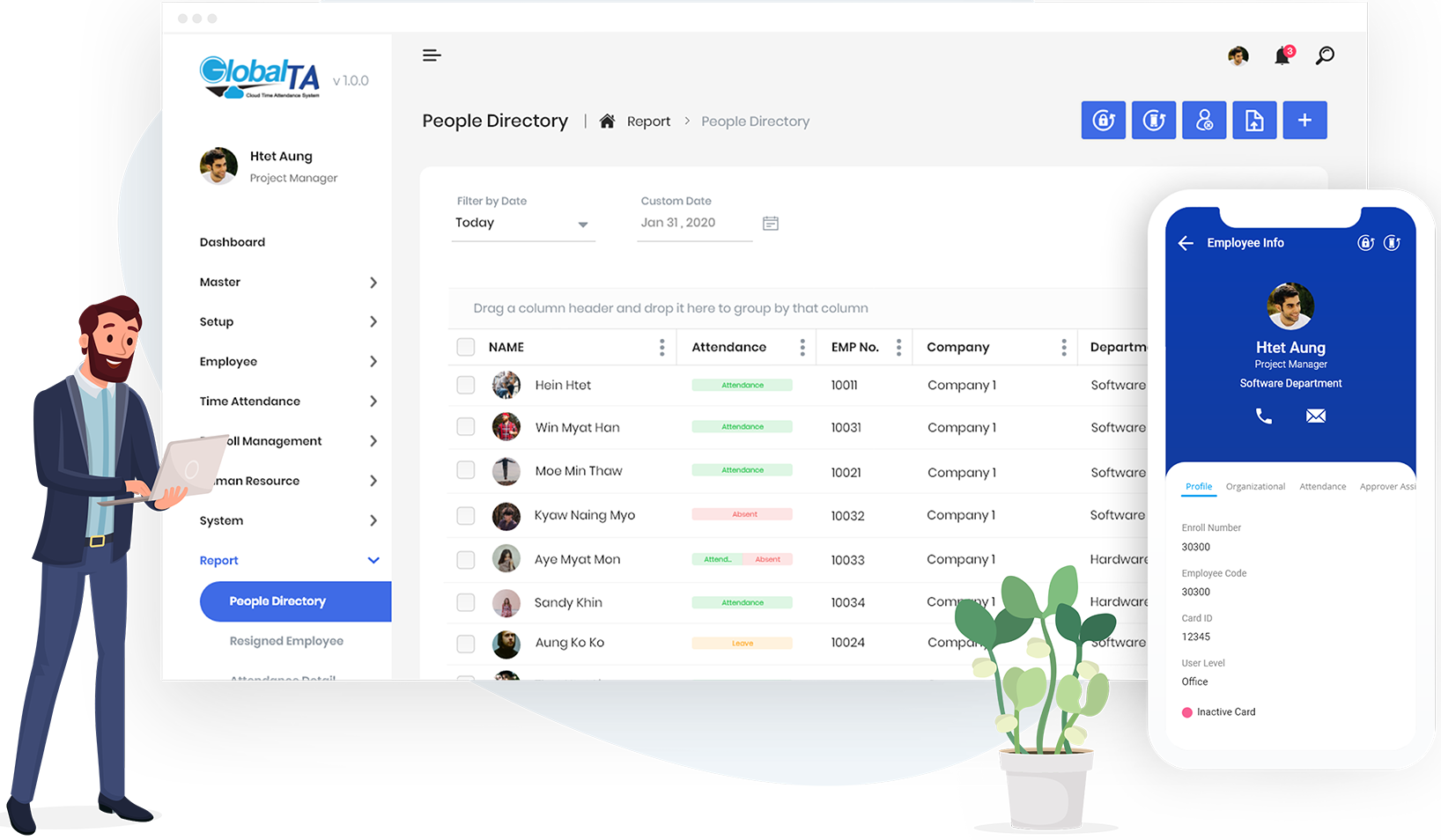 Cloud base version (Online) can be used by paying monthly fee. Also, users get Desktop version (Offline) with on premise price. Cloud based version and Desktop version of Global TA&HR System are based on one program and the use of UI/UX are also same. In Cloud based version, users can get the advantages of Mobile First Cloud based Application because of the use of Online Cloud Server. For the offline users, Desktop application will be installed in users' computers and then users can use the advantages from this desktop applications.
Get started with a free demo
We will get in touch with you shortly